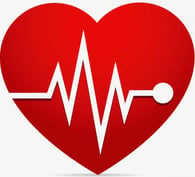 Dr. Winslow Murdoch of Total Access Medical offers dietary advice on how to manage and even prevent heart disease - the leading cause of death for both men and women, causing 1 in every 4 deaths. Dr. Murdoch has special interests in medical weight loss, type 2 diabetes, psychopharmacology, integrative/alternative medicine, cardiovascular disease prevention, as well as in the management of patients with multiple or complex medical problems.
What causes heart disease and how can it be prevented?
"Heart disease encompasses a wide range of different problems caused from stress, chronic sleep deprivation, physical inactivity, diet and even genetics. Excess stress leads to a lack of sleep which leads to living an unhealthy lifestyle. But a proper diet can significantly help to maintain and even reduce the disease. I recommend a whole food plant-based diet with healthy fats, the Mediterranean diet, the dash diet or the Dean Ornish diet. The Mediterranean diet consists of unprocessed whole grains, minimal amounts of bread and processed foods where plants are the primary source of calories. Limit red meat consumption but be aggressive with fruits, nuts, seeds, and moderate amount of olive oil. The Dean Ornish diet is a low calorie, vegan dietary approach and data shows it can be an alternative if you're religious about it."
How can a concierge physician prevent heart disease or help manage those who have the disease?
"It comes down to having a clinician who has interest in your situation, who knows your environment, stress levels and diet and has an interest in managing, preventing and treating coronary heart disease. Having a doctor to tease apart the different aspects and drivers of heart disease and can hold you accountable to regular follow-ups. There's real value in the doctor-patient relationship to put the problem in a multifactorial equation. We make it a priority to have the time to get to the root cause of the disease. We look at the big picture."
---