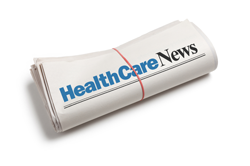 Tech startups are known for their crazy perks — a gym membership, unlimited vacation, and free meals — which are designed to recruit and retain employees.
The hot new benefit is far more practical: High-quality primary care, also known as direct primary care or concierge medicine. The doctors involved in direct primary care see significantly fewer patients each day than the nationwide average. Patients can book a same-day appointment online and can discuss symptoms with their physician on Skype or in-person at any of the direct primary care locations.
And now, a recent article posted on CNBC addresses Apple's initiative to improve wellness for its employees through their new wellness clinic, AC Wellness.
Apple is far from the only employer starting its own on-site medical clinic. Intel, Facebook and other companies with large campuses boast these services for employees. Many health insiders expect that the Amazon, Berkshire Hathaway and J.P. Morgan partnership group will also take this approach with their employees. Many primary care providers, employers and start-ups are at the forefront of this trend, believing that it's a way to save money while improving the patient care experience.
But Apple's approach stands out for its focus on care, and not just treating disease. AC Wellness has a deep appreciation for "patient experience and a passion for wellness and population health." They are passionate about things like nutrition, stress management and smoking cessation, which aren't always offered at primary care practices.
Some health experts say Apple's approach ties in with a broader trend. The U.S. health sector is starting to move away from "fee for service," where doctors bill according to a set of fixed codes. That system, which is still the norm, rewards care professionals for administering expensive tests and procedures rather than for wellness or preventative care.
---
Related Article: Financial Advisors: Here's Why You Should Refer Your Clients to Concierge Doctors
---
Concierge care can lower employers' overall health care costs by eight percent, with members requiring 25 percent fewer emergency room visits and almost 40 percent fewer hospital visits.
Health care is reforming rapidly, and care providers are under pressure transition to a "volume to value" model. This means doctors will be incentivized to keep patients healthy in between visits, and not by charging for a battery of expensive tests. Doctors will start spending more time with patients talking about things like wellness and prevention to make sure they're not coming back every month.
Employers have other reasons for embracing wellness. Workers who feel energized and happy will be more productive at the office and are less likely to rack up costly health bills through emergency room visits or trips to specialists.