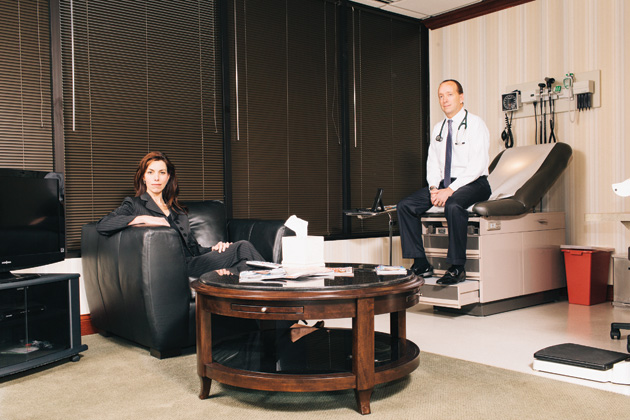 The medical community has realized that the design of primary care offices can contribute to improved patient health and overall well-being. By implementing soothing paint colors, comfortable furniture, and calming lighting, the office can be a place that patients recognize as relaxing and pampering. The result is a space that reduces patient stress and fosters wellness.
By weaving the three central considerations (beauty, light, and nature) into your concierge medical office setting, you can create an establishment that ensures patient comfort. Try using high-end finishes, such as textured walls and mirrored tiles to create spaces that feel less institutional and more serene. Natural lighting also has a huge effect on any space, but its impact in healthcare design cannot be understated. Bringing the outside in is an easy way to make a space feel more appealing and promote calmness. While ample natural light is extremely important, so, too, is patient privacy, which can be addressed with shades, blinds, and tinted or frosted glass. The green vegetation relieves stress and promotes faster healing. By focusing on these details, you can create a concierge medical office that is as beautiful as it is functional.
These design strategies are said to reflect psychological support, comfort, personalization, and close interaction provided in the concierge office.
As we work with our clients to determine the best design solutions to improve the patient experience, one of the first things we do is talk to staff members to understand how operations and workflow impact the patient experience. Sometimes doctors, even if they own the practice, may not be aware of problems with the waiting room simply because they rarely see it. Talk to staff - they're on the front lines seeing everything so they may have impactful ideas.
By learning our clients' processes, we can identify improvements for communication and efficiencies. When we do this, we are not only better able to design a high-functioning office setting, but we also discover ways to streamline operations and improve patient satisfaction. This deeper dive analysis consistently generates solutions that improve the overall patient experience.
---