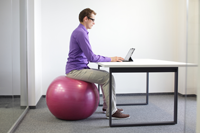 This month, in an effort to celebrate 2015 and all the resolutions we've made to lead healthier lives, we launched a blog series about corporate wellness. Read part 1 and part 2 here.
Now onto the third part in this series, where we share four more strategies for you to consider implementing in your organization today.
1. Offer weekly or monthly chair massages to employees. This is a nice perk that can also help alleviate stress in areas that are prone to tension, like the neck and back. Google "corporate chair massage" and your city, and you'll find plenty of practitioners.
2. Provide wellness workshops on topics of interest. Take a survey and see what health and wellness topics people want to learn more about. Perhaps people want tips for easy, healthy recipes they can whip up after a long day of work. Invite a chef in who can demonstrate how to make a few easy, healthy meals. Or maybe people are curious about hypnosis. Invite a hypnotherapist in to talk about what hypnosis is, what health conditions it can help, etc.
3. During cold and flu season, make hand sanitizer readily available to employees AND encourage thorough hand washing. Over the years, people have debated whether hand sanitizer is safe and effective. We recommend using alcohol-based hand sanitizers (avoid those with triclosan, which is a toxic chemical). WebMD recommends it as well. But keep in mind that thorough hand washing is still important.
As for the workplace, make hand sanitizer available at popular entrance points (many germs linger on doorknobs, banisters, and elevator buttons). Consider investing in pocket-sized sanitizers that people can keep on their desks. Make sure, however, that you know the active ingredients in your sanitizer, since the concentration of the alcohol is what matters (shoot for a concentration between 60 and 95 percent).
4. Encourage and support the practice of mindfulness at work. In its article "Business Skills and Buddhist Mindfulness," The Wall Street Journal says, "While the idea of mindfulness originates in the serious practice of meditation, B-school faculty say it has many applications for executives who aren't looking for a spiritual fix but simply want to clear their heads and become aware of reflexive, emotional reactions that can lead to bad decisions."
Read about Google's take on mindfulness and General Mills' journey into mindfulness as well. To get started on a "mindfulness mission" in your workplace, check out these resources:
Be sure to check back next week for the concluding article in this series. Or if you can't wait until then, download our complete guide right now: 12 Ways to Foster Wellness in the Workplace.