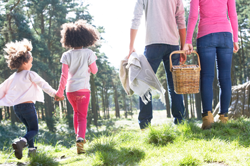 Last month, it was all about safety. This month, it's National Parks and Recreation Month,
which means it's all about having fun! Help celebrate with these summer health tips that'll keep you moving, smiling, and laughing.
1. Embrace the obvious summer sports.
Swimming, beach volleyball, tennis, golf—all of these are great activities that get our bodies moving. The great thing is that so many of these activities don't feel like traditional exercise. They just provide lots of sweaty fun.