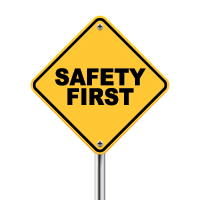 Sponsored by the National Safety Council, National Safety Month "focuses on reducing leading causes of injury and death at work, on the road and in our homes and communities."​
So let's talk summer health tips for at home, at work, and at play…
Safety Tips at Work
It's easy to think that we're safe at our jobs, but think again. According to Health and Safety Executive, "An estimated 629 000 workers had an accident at work in 2013/14."

So how can you make the workplace safer for you and your peers? Here are some ideas:

1. Offer safety training.

Several people in the office should be trained in CPR and First Aid. The American Red Cross offers workplace training as does the National Safety Council.

2. Review and practice emergency preparedness plans.

The best defense is a good offense. Would people in your workplace know the protocol during an emergency, such as a tornado or active shooter on the premises? It's important to plan for different scenarios and practice the plans on a regular basis with all employees.

3. Make sure all equipment is up to snuff.

Think fire detectors, flashlights, first aid kits, and so forth. Put someone in charge of spot-checking equipment on a quarterly basis.

4. Participate in National Safety Month every year.

The National Safety Council website has plenty of informative materials you can download for free.
Summer Health Tips at Home & On the Road
Ah, the lazy, hazy days of summer. How we've missed you! Make your summertime a true pleasure and not a nightmare by following these tips.
1. Cover up and wear sunscreen.
Protect your skin from ultra-violet B rays (which can cause skin cancer) and ultra-violet A rays (which can cause wrinkles). Choose a sunscreen with an SPF (sun protection factor) of at least 15. SPF provides protection against harmful UVB rays.
WebMD says, "For the vast majority of people, SPF 15 is fine… But people who have very fair skin, a family history of skin cancer, or conditions like lupus that increase sensitivity to sunlight should consider SPF 30 or higher."
You'll need to check out the ingredients in your sunscreen regarding protection against UVA rays. WebMD has more tips regarding what to look for regarding ingredients here.
If you're going to be sweating or in the water, it makes sense to invest in water-resistant sunscreen. (There's no such thing as waterproof.) And be sure to reapply often.
2. Wear a bike helmet.
Last month, we devoted a whole post to bike safety tips in honor of National Bike Month. But it's worth repeating the most important tip here: wear a helmet because bike helmets save lives. Protect that noggin of yours.
3. After you've been outside, do body checks for ticks on humans and pets.
Don't let the cold, snowy winter we experienced in the northeast fool you. Ticks are just as problematic as ever this season and not only if you're trekking through grassy or wooded areas, either. Even people who spend time out and about in cities should always spot check bare skin, clothes, and pets for pesky ticks. Here's what to do if you find a tick on your body.
4. Wear insect repellant.
Ticks aren't the only problems. Summertime means mosquitoes are back as well. Make sure you wear insect repellant if you're going to be outside in the late afternoon and evening. Here's how to use insect repellant safely, and here are some natural insect repellants.
5. Be mindful of fireworks.
The Fourth of July is right around the corner. Don't let this fun time turn into tragedy. According to the National Fire Protection Agency, "In 2012, U.S. hospital emergency rooms treated an estimated 8,700 people for fireworks related injuries; 55% of 2012 emergency room fireworks-related injuries were to the extremities and 31% were to the head." Let the pros handle fireworks. 'Nuff said.
On behalf of all of us at Total Access Medical, we wish you a happy and healthy summer!
Stay safe and healthy in the workplace as well with more tips from our free corporate wellness guide.