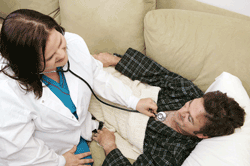 For many people in America, house call doctors seem like a thing of the past. In some cases, people tend to assume that the practice is either too impractical or just for those who can afford to spend massive amounts of money on a personal doctor. Though the landscape of the medical field has changed, house call doctors do still exist, with good reason.
In the early days of modern medicine, house call doctors were necessary because not everyone could get to the doctor and if someone was sick, they often didn't want to try to make them go somewhere. In the early 1960's, some 60% of doctor appointments were house call doctors coming to patients. By the 1980's, that number fell to around 0.6%. As time went on it became less lucrative and efficient for doctors to make house calls. Medical care has shifted but the needs of patients have not.
For elderly people with chronic illness, it can be very challenging and exhausting to have to travel to a doctor's office and sit in a waiting room, only to be seen for a brief period of time. Many of these people need check-ups several times a month, so it makes sense for them to use doctors specializing in geriatrics. Assisted living communities often have staffed doctors to see residents, but that sort of care can be quite expensive. There are plenty of geriatric or chronically ill patients who can't justify the expense of assisted care facilities or just don't want to.
Concierge medicine is making a comeback for personalized healthcare. Although concierge doctors are not necessarily explicitly house call doctors, they work around the needs of their patients and do what makes sense for them. For a single man who doesn't have someone to take him to the doctor's office when he's seriously ill, it can be a tremendous comfort to have a doctor who is available to stop by his home. Most doctors in general practices are too busy and cannot be bothered to make house calls, but if that care is something you need, it might be time to look into a concierge doctor.
Are you ready to learn more about concierge medicine and see if it is right for you? Read about our individual and corporate programs.