A graduate of the University of Pennsylvania and Hahnemann University Medical School, Dr. Saris has been in practice and board certified in Internal Medicine since 1991. She is a native of Valley Forge and has provided medical care to the Mainline community for over 20 years.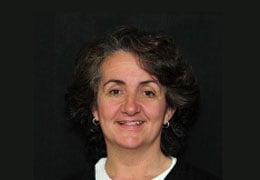 In addition to her clinical duties, Dr. Saris has served as a clinical instructor for Hahnemann University medical students and University of Pennsylvania nurse practitioners. In 2000, she received the Preceptor and Teaching Award from the Medical College of Pennsylvania and Hahnemann University. Since 1999, she has been a member of the Philadelphia Club of Medical Women where she was elected President from 2004-2006.
Dr. Saris has remained active in the community, speaking about preventative health and important senior health issues and serving on various committees. Dr. Saris is on staff at Bryn Mawr, Lankenau, and Paoli Hospitals.
Here's Dr. Saris, in her own words.
Tell us about the moment when you first decided to become a doctor. What inspired you?
This brings me back to my college essays! I actually wrote about this. I was fortunate enough to always know I wanted to be a doctor since nursery school. I was three years old at the local "Play-Nook" in Strafford when I noticed a bloody wound on the scalp of my friend. All the other children ran away as I was intrigued and wanted to "fix it." Clearly, my parents who were both doctors were already imprinting and molding my career path.
My mother was a general practitioner and my father was a general surgeon. Much of our family time involved sitting around the kitchen table telling medical stories or giving medical advice to our neighbors. It was not unusual for my dad to break out his doctor's bag to clean a dirty wound or re-wrap a poorly bandaged injury on our kitchen counter where the lighting was perfect.
I remember the continuous flow of visitors to our house, stopping to say hello, enjoying a good laugh, and getting a little advice on the side. They would always leave with a big smile and let us know how appreciative they were of having a doctor in the neighborhood. That's when I knew I wanted to be a doctor.
Describe the way you practice medicine.
I practice medicine the old-fashioned way—hands on. I need to know the story (history) and observe the situation (physical). I need to hear all the details and listen to the patient. Then my decision-making is based on the needs of the patient utilizing the knowledge and technology of today.
Discuss your transition to concierge medicine.
My decision to transition to the concierge medicine model was not an easy one. I was proud of the work I did and the office environment we provided, but I knew my private practice model was a dying breed. You can't provide time and attention to thousands of patients and run a quality office if health system costs rise, reimbursement declines, and patients are frustrated.
I spent many hours trying to find the right formula to maintain a high-quality office practice while being fiscally responsible. There are various options a physician can consider to protect their career, but I wanted to continue the service that I felt was more important—to protect quality healthcare. The concierge model allows me to practice the best medicine, the old-fashioned way, to those who value their healthcare.
How does an internist differ from a general practitioner? Is there a difference?
An internist is different from a general practitioner. Their training and board certification is different. An internist goes to a four-year medical school, then gets accepted into a three-year residency program in Internal Medicine, which is a specialty specific to diagnosis and management of all medical diseases that can occur in the hospital and/or outpatient setting.
A general practitioner does not necessarily have a specialty. In general, patients do not need to have a GP and an internist as a primary care physician, but all patients should always feel comfortable with their primary care physician and know that they can always consider another medical professional for additional advice.
Tell us about The Philadelphia Club of Medical Women and why you're so passionate about this organization.
The Philadelphia Club of Medical Women is a local membership that was founded in 1926 when women were underrepresented in the medical field. This group recognized that there could be obstacles of being a minority in a male-dominated profession and found a way to support each other and build fellowship. Over the past 90 years, we have been able to see the courage and efforts of a few women open the doors for what is now a profession that is equally represented.
When my mother went to medical school, she was only one of three women in a class of 120 medical students. When I went to medical school, over a third of students were female. Now, our club of medical women gets the opportunity to learn the history, appreciate the remarkable lives of women in medicine locally, and keep in touch with the current pulse of healthcare as it affects all of us in our everyday lives.
OK, now for some fun questions…
Favorite food? Steak and watermelon
Favorite form of exercise? Anything with a group or team.
Recent books you've read? I just read Unbroken.
Favorite way to relax after work? Talk to my kids while I make dinner.
Share something that not many people know about you? I love musicals, I play the saxophone, and I sang with the Carpenters at Valley Forge Music Fair.
Thanks, Dr. Saris!
Chances are good that if you're reading this newsletter, you're a fan of the concierge medical model and possibly even enrolled in a program.
But if you're on the fence or confused by all the information available online…or if you know someone who is looking into concierge medicine… then we have the perfect resource.
Is Concierge Medicine Right for You? A Helpful Checklist from Total Access Medical
This checklist will guide you through the many different things you need to consider, including the big three Cs: costs, control, and coordinated care.
You can download it here—it's free.