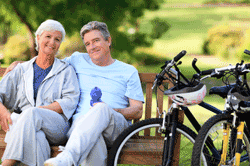 Getting older comes with a variety of aches, pains, and quirks that no one tells you about. It's difficult to predict specifics, since health varies person to person. You can, however, get an idea of how to manage yourself by seeing a geriatric physician.
You probably already have a regular doctor who sees you for annual checkups and anything else you might need on a fairly standard basis. There's nothing wrong with seeing a general physician, but seeing a geriatric physician carries benefits in the same way it's better for a child to see a pediatrician.
Geriatric physicians specialize in caring for the aging and elderly. It's not always easy to admit when we fall into that category, but it doesn't do us any favors to deny that we all get older. A trained geriatric doctor is going to be much more likely to catch on to something potentially severe than a general physician. Part of getting older is paying more attention to persistent symptoms and treating them immediately before they become serious.
Seeing a geriatric physician likely guarantees more time with your doctor, as well. When we need more involved medical care, sitting in a waiting room for an hour only to have 10 minutes with a doctor can be frustrating. Talking with your doctor in detail is important and takes time. For a doctor who specializes in geriatrics, he or she understands the needs of various patients and can adjust accordingly.
Having a regular doctor is important in any stage of life. As we get older, it makes a world of difference to have a doctor who understands the changes that aging brings. Taking the time to see a doctor and check vitals, weight, and occasionally get blood work done is the best way to monitor health. Discussing nutrition and exercise with a geriatric physician will help you stay and feel healthy.
If you're over the age of 55, consider seeing a geriatric physician. Feel younger longer by taking care of your body the right way. The worst things we can do for ourselves is feel embarrassed or deny the age we've earned.
Are you ready to learn more about concierge medicine and see if it is right for you? Read about our individual and corporate programs.