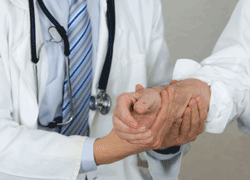 Life is going along fine. Then suddenly a fall or unexpected health problem changes a loved one's needs — and now, you're the caregiver. You know the discussion you need to have with your loved one, yet like many adult children who are thinking of moving their elderly parents, the three words "assisted living facility" seem unwelcoming, debilitating and glum. Should you recommend a senior living home, a 24 hour nurse or should you consider placing your loved one under the care of a concierge doctor?
Many elderly individuals are reluctant to move into a senior care home while others shun away the idea of living with an in-home nurse. Luckily, concierge medicine combines the independence your loved one desires with the health safekeeping and supervision of an on-call physician.
With concierge medicine, your loved one can have 24/7 access to a personal physician and can be given the highest quality of personal attention offered throughout the Philadelphia area.
Backed By The Numbers
Extensive research has found that concierge care decreases hospital use resulting in $119.4 million in savings in 2010 alone. On a per-capita basis, these savings ($2,551 per patient) were greater than the payment for membership in a concierge medical practice, which is typically $2,500 for patients¹.
Patients experience 56% fewer non-elective admissions, 49% fewer avoidable admissions, and 63% fewer non-avoidable admissions than patients of traditional practices². Additionally, members of concierge practices were readmitted 97%, 95%, and 91% less frequently for acute myocardial infarction, congestive heart failure, and pneumonia³.
A second study reinforces these results. A British Medical Journal study of concierge care found that patients experienced 35% fewer hospitalizations, 65% fewer emergency department visits, 66% fewer specialist visits, and 82% fewer surgeries than similar populations⁴.
How does concierge medicine impact patient satisfaction?
Total Access Medical, a concierge medical practice with doctors in Philadelphia, New Jersey and Delaware, surveyed roughly 2,000 member patients on their level of satisfaction. Here are the results:
98% agree that the communication with their physician is better now that there is more time

98% agree that they can reach their physician 24/7

98% agree that the medical office staff is helpful

99% are satisfied with the way that our service company answers their questions

97% would recommend membership to a friend

84% indicate that their physician spends more than 15 minutes with them

94% wait for less than 15 minutes to see their doctor (48% under 5 minutes)
Does concierge care lead to better health outcomes?
The concierge health care model of personalized, preventive care allows the physician to take a more proactive, rather than reactive, approach. This increased physician interaction is the reason for the lower hospital utilization and ultimately lower healthcare costs.
Patients enrolled in a concierge practice experience a 50% reduction in emergency department visits, specialist visits, advance radiologic testing, and surgical procedures than those enrolled in traditional practices⁵. The only measure of increase is the number of primary care visits, which more than doubled from an average of 2 to an average of 4 per year⁶.
Even though patients of concierge practices visit their concierge physician more often, they stay out of the emergency room more often than patients of traditional care practices.
Conclusion
Patients are extremely satisfied with concierge medicine and the health outcomes are impressive. So, should your loved one live without around-the-clock physician care?
---
The doctors of Total Access Medical are offering to meet with interested patients for free. Please contact 610-209-7446 to schedule your free "Meet n Greet" today or schedule your "Meet n Greet" by completing the form below.