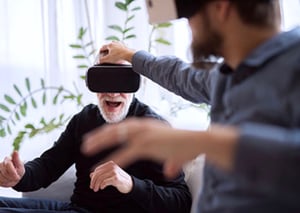 By 2060, the elderly population will more than double today's elderly population of 46 million to over 98 million. Given our aging population, the time to start designing for this demographic is now, with virtual reality. Virtual reality offers an effective and enjoyable way for seniors to connect with others and manage symptoms of old age.
The senior population often yearn for mental stimulation and they are eager to learn, explore and interact. This need for stimulation is likely a result of the physical and cognitive decline associated with aging.
VR games are entertaining, but they also serve an important function: stimulating our minds with new activities to improve memory. Here's how VR can can be used to benefit the elder population:
Alzheimer's and Dementia Detection
Decline in memory and spatial reasoning can often be early symptoms of Alzheimer's or dementia. Doctors are able to detect these issues through VR navigation games where players orient themselves in new environments.
This type of test is difficult to execute in a traditional clinical setting.
Physical and Cognitive Training
VR can help train motor and cognitive skills and it can improve balance, gait, and neural connections. One study shows that playing a 3D video game designed to train multi-tasking abilities enhanced sustained attention and working memory of seniors. In conclusion, custom-designed video games can be used to assess cognitive abilities across the lifespan and serve as a powerful tool for cognitive enhancement.
Reminiscence Therapy
Reminiscence therapy involves the discussion of past activities, events and experiences with another person or group of people, with the aid of virtual reality. Clinical research has shown that reminiscence therapy through virtual reality has positive effects on people with dementia as it improves their quality of life, cognition, communication and mood.
---