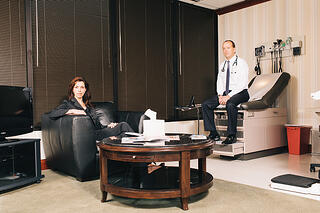 The way companies and their employees get access to health care is evolving quickly. Employers, employees and their families are starting to demand more convenient, on-demand access to health care. It is clear that this trend will continue, especially as today's higher deductibles are causing increased consumer sensitivity to health care costs.
Primary care for employees means better employee health, greater productivity, less employee absenteeism and lower costs for both the employee and employer. This is why certain companies are making health care a first-hand concern rather than just a human resources cost-management tactic. A few large businesses already have primary care clinics on site while a few of the smaller companies have partnered together to create a joint primary care program.
However, another type of partnership is arising. Some companies, rather than establish their own primary care clinic, have decided to purchase the retainer/membership for their employees in a direct primary care practice. They choose one or more practices that offer the type of comprehensive primary care that has proven to be effective in larger companies. Alternatively, they place a sum of money in the employee's HSA or HRA which can be used pay the membership fee for the DPC physician of the employee's choice.
Related article: 7 Benefits of Direct Primary Care for Employers
Insurers have been slow to enter this field, preferring to let the employer purchase retainers rather than offering it as part of their policies. A few insurers have decided to partner with direct primary care practices. The insurer pays the monthly fee to the primary care physician from the premiums collected. Some of these practices combine a primary care physician and a health coach for each patient along with classes on health and wellness.
Alternatively, some direct primary care groups work directly with employers. They can offer the employer a good value that will mean primary care for their employees while ultimately reducing the total costs of health care.
Related article: FAQ: Employers and Direct Primary Care
A few enterprising groups work with insurers to offer self-insured employers a package of direct primary care along with insurance for specialty care and hospitalization. The employer pays the group which in turn pays for direct primary care with their primary care physicians for expanded primary care. Specialty care and hospitalization is covered by the insurance component and may or may not include co-pays and deductibles as determined by the employer. The concept here is to convert a completely fixed "insurance" cost to a much smaller fixed cost for catastrophic care and leaving the rest variable for primary care. The aim is to improve health and wellness with first rate primary care thus reducing that variable cost substantially.
---
Is a direct primary care partnership suitable for your business? Check out Total Access Medical's Corporate Health Program.