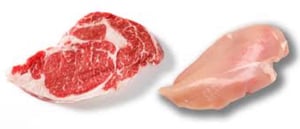 Do you believe that white meat, such as chicken, is healthier than red meat, such as beef, with regards to cholesterol levels? Well, recent research counters this widespread belief.
The Research
Researchers of the study found that white meat is just as harmful to cholesterol levels as red meat. Researchers divided healthy men and women into two groups, according to whether they regularly consumed high levels of saturated fatty acids or low levels of saturated fatty acids. Then the researchers randomly assigned the participants to a red meat group, a white meat group, and a non-meat protein diet group.
Within each group, the participants — who were 21–65 years old and had a body mass index of between 20–35 kilograms/square meter — consumed the allocated foods for 4 weeks.
Red And White Meat Have 'Identical' Effects
The study found that abstaining from eating meat altogether lowered blood cholesterol much more than researchers had previously believed.
Consuming both red and white meat raised blood cholesterol levels more than consuming equivalent levels of plant-based proteins. Non-meat protein sources, such as vegetables, dairy, and pulses, have the most beneficial effect on cholesterol levels.
The findings firmly support plant-based diets and it is the first to show that both red and white meat result in higher LDL than those resulting from plant-based sources.
---