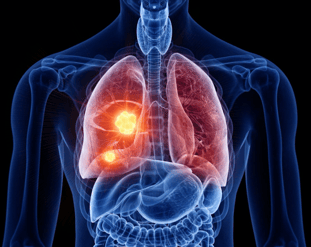 Most lung cancers do not cause any symptoms until they have spread, but some people with early lung cancer do have symptoms.
If you go to your doctor when you first notice symptoms, your cancer might be diagnosed at an earlier stage, when treatment is more likely to be effective.
Most of these symptoms are more likely to be caused by something other than lung cancer. Still, if you have any of these problems, it's important to see your doctor right away so the cause can be found and treated, if needed.
Symptoms may include:
Chest pain or discomfort
A cough that doesn't go away or gets worse over time
Trouble breathing
Wheezing
Blood in sputum (mucus coughed up from the lungs)
Hoarseness
Loss of appetite
Weight loss for no known reason
Fatigue
Trouble swallowing
Swelling in the face and/or veins in the neck
How Is Lung Cancer Diagnosed?
Your health care provider may use many tools to make a diagnosis:
A medical history, which includes asking about your symptoms
A family history
A physical exam
Imaging tests, such as a chest x-ray or chest CT scan
Lab tests, including tests of your blood and sputum
A biopsy of the lung
If you do have lung cancer, your provider will do other tests to find out how far it has spread through the lungs, lymph nodes, and the rest of the body. This is called staging. Knowing the type and stage of lung cancer you have helps your provider decide what kind of treatment you need.
---