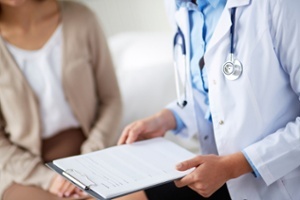 Preventive health screenings offered by your primary care physician can help you catch and further prevent the spread of conditions such as heart disease, diabetes, and cancer while they are the still in the development stages.
But many Americans skip these life-saving screenings. According to the American Academy of Family Physicians, almost one in five men (18%) 55 years and older have never received the recommended screening for colon cancer. Even worse, 55 percent of men are skipping health screenings altogether. And yet another survey conducted by NBC News discovered that approximately 8 million women had not had a cervical cancer screening in five years. If you're not sure what health screenings you need, the information in this post will help.
Create a personalized plan with your primary care physician
The screenings you need depend upon your age, gender, current health status and family medical history. That's why it's important to have a close, personal relationship with your doctor so you can build a preventive care strategy that's tailored towards your health. Your doctor will perform a history and physical that will form the baseline for what types of screenings and follow-up care you need. Good communication between you and your physician is important to ensure that you receive the screenings that are appropriate for you. If you're not satisfied with your relationship with your doctor or if you want a closer relationship with your doctor than consider the convenience of same-day appointment scheduling and longer appointments offered by direct primary care.
The essential screenings that all adults should have include:
Blood pressure. If you are age 40 or older, or if you are at higher risk for high blood pressure, get your blood pressure checked once a year. If you are age 18 to 40 and you aren't at higher risk for high blood pressure, get your blood pressure checked every 3 to 5 years.
Cholesterol levels. Too much cholesterol in your blood can cause a heart attack or a stroke. Even worse, you could have high cholesterol and not know it. The good news is that it's easy to get your cholesterol checked and if your levels are high than you can take steps to control it. Who needs to get their cholesterol checked?All men age 35 and older. Men ages 20 to 35 who have heart disease or risk factors for heart disease. Women age 20 and older who have heart disease or risk factors for heart disease.
Colorectal cancer. If you are age 50 to 75, get tested regularly for colorectal cancer. You may need to get tested before age 50 if colorectal cancer runs in your family. Talk with your primary care doctor and ask about your risk for colorectal cancer. How often you get screened will depend on your risk for colorectal cancer. It will also depend on which screening test is used. There are different ways to test for colorectal cancer. Some tests are done every 1 to 2 years. Other tests are done every 5 to 10 years. Your doctor can help you decide which test is right for you and how often to get screened.
Diabetes screening. Who should geta diabetes screening? Anyone who has risk factors for diabetes, anyone over the age of 45 and adults with high blood pressure and high cholesterol levels. How oftern should you get the blood glucose screening? People over the age of 45 should get the screening every 3 years.
Breast cancer. Women should have a mammogram every 1 to 2 years after age 40. If you have a family history of breast cancer, your doctor may suggest starting mammograms at an earlier age and may recommend genetic testing.
Bone density. Women should have a bone density scan at age 65. Those with osteoporosis risk factors such as being petite or thin, having a family history of the disease, smoking or certain diseases such as rheumatoid arthritis should ask their doctor if they need a bone density scan before age 65.
The CDC identifies recommendations that are most likely to reduce the burden of leading causes of preventable death and major illness. The seven priority areas are:
Tobacco free living
Preventing drug abuse and excessive alcohol use
Healthy eating
Active living
Injury and violence-free living
Reproductive and sexual health
Mental and emotional wellbeing
There are other screening tests that your direct primary care physician may recommend based on your activity levels, medical history, family history, and personal health history. These include screening for skin cancer, prostate cancer, lung cancer, hepatitis C, sexually transmitted infections, etc. Men should talk with their physicians about their recommendations regarding screening for prostate cancer.
Also, remember to follow up with your doctor if you don't receive the results of your screenings. Another important part of your preventive health strategy should be to maintain a healthy weight, take part in regular physical activity, and eat a healthy diet. These proactive steps can help you lower your risk of a range of health problems including heart disease, stroke, depression and cognitive impairment.
Do you want your health screenings done as soon as possible? Than consider becoming a patient of a direct primary care practice. You'll have 24 / 7 access to your physician's cell phone, which will grant you same day appointments, longer appointments and a much closer relationship with your doctor.